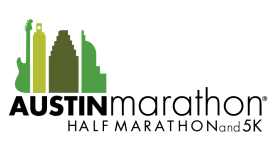 New route will highlight more Austin landmarks and enhance race day traffic
AUSTIN, Texas, September 12, 2017 – High Five Events, one of the largest privately owned event production companies in the United States, introduces a new course for the 2018 Austin Marathon® that will highlight more of Austin's iconic landmarks on race day and engage more Austin businesses and restaurants. The new course was designed to provide a better participant and spectator experience and allow enhanced traffic flow along the course, while still finishing with the picturesque Texas State Capitol as every runner's backdrop.
"I love the Austin Marathon, not just because it reminds me every year of when I ran the half marathon but also because we get to show off our beautiful city to thousands of visitors, and those visitors leave behind tips for service industry workers and taxes that we use for the arts and historic preservation," said Austin Mayor Steve Adler. "Only one person can come in first, but everyone in town wins the Austin Marathon."
The first half of the Austin Marathon will remain unchanged. After Mile 12, half marathoners will head south to the finish line while marathoners continue east before turning north and running through The Drag, a portion of Guadalupe St. that runs along the western edge of the University of Texas campus. The course will highlight Austin staples like the University of Texas Tower and historic Hyde Park neighborhood, while taking marathoners on a tour of East Austin's restaurants, murals, and landmarks. The course map can be viewed on the website.
High Five Events has worked closely with the City of Austin Transportation Department and the Capital Metro Transportation Authority throughout the planning of this beneficial course change. By working with the city and continuing outreach efforts to local communities and businesses, the goals of enhancing traffic flow and highlighting more of Austin will be achieved. An increasing number of businesses and restaurants are opening their doors to accommodate the tens of thousands of runners and spectators who make up race day. All of these contributing factors will lead to the 2018 Austin Marathon increasing its 2017 economic impact of $34.4 million.
"The Bee Grocery is honored to be on the Austin Marathon's new course; we're counting down the days to February 18, 2018," said Brenda Le, owner of The Bee Grocery. "Race day is full of excitement and we know downtown will be buzzing with all of the runners and spectators. Good luck to all the runners!"
The Austin Marathon will celebrate its 27th year running in the capital of Texas on February 18, 2018. Austin's flagship running event annually attracts runners from all 50 states and 20+ countries around the world. Having start and finish locations just a few blocks apart, being within walking distance of many downtown hotels and restaurants, and finishing in front of the picturesque Texas State Capitol makes the Austin Marathon the perfect running weekend destination. Participants can register for the marathon, half marathon, or 5K. The new course is awaiting final approval from the City Council, expected mid-November.
About High Five Events:
Beginning with the launch of a single triathlon in 2003, High Five Events has grown to become one of the largest privately owned event production companies in the United States. In addition to the events it owns and produces, the Austin, Texas-based company offers consulting and event production services to dozens of additional events each year. High Five Events is a community-centric company with more than 100 years' combined experience organizing large events across different venue types in a variety of locations. Follow High Five Events on Twitter (@highfiveevents), Instagram (@highfiveevents), and Facebook (facebook.com/HighFiveEventsWorldWide/) for news and updates.