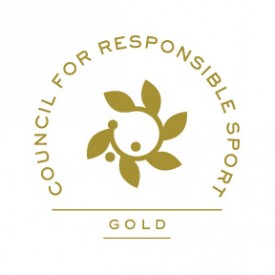 EUGENE, Ore. – The Eugene Marathon is proud to announce the 2016 race earned Gold Level Certification from the Council for Responsible Sport, the world's leading responsible sport certification program.
The Marathon achieved the prestigious award by successfully employing 45 distinct best practice standards that address such matters as resource procurement and management, improving access and engagement with underserved communities and establishing a positive community legacy. A rigorous and thorough documentation process ensures accuracy, transparency and provides a baseline for tracking year-to-year performance.
"Earning Gold Level Certification is not an easy feat for any event," said Shelley Villalobos, certification director for the Council for Responsible Sport. "The Eugene Marathon's participants and staff showed a lot of enthusiasm and determination to improve their sustainability initiatives and the award proves that."
Among other efforts to help achieve certification, the Marathon used 100% renewable energy, diverted or repurposed over 40% of event waste and generated more than $1.3 million in positive economic impact to Eugene and Springfield.
"Earning such an impressive award shows how dedicated the Eugene Marathon and its participants are to taking care of the environment and our community," said Richard Maher, Eugene Marathon race director. "Large events like ours have a responsibility to leave places better than we found them."
Gold Level Certification is achieved by only 25% of all events seeking certification through the Council for Responsible Sport. Assuming the Marathon's 2017 sustainability efforts mirror those of 2016, the Gold Level Certification will remain valid for two years.
Past Gold Level Certification recipients include the PGA Tour's Waste Management Phoenix Open, the AT&T Pebble Beach Pro-Am, the Philadelphia Marathon, the U.S. Olympic Track & Field Trials and the Mexico City Marathon.